GeneratioNext Propane Pros Stats
One of the propane industry's biggest challenges is an aging, declining workforce, particularly in service. For decades, the service technicians, installers, and drivers have been our most important point of contact when it comes to interacting with our customers. Their role could often be likened to a first responder, endearing the industry and company to the consumer. Maintaining this workforce is essential to increase the capacity to service our customers' equipment in the future and to positively impact customer retention. Thus, securing a new generation of service professionals is not only important—it is critical.
GeneratioNext Propane Pros was conceived to address the need to expand the service-based workforce within the propane industry and provide students and propane professionals with tools to connect with prospective employers. Keep reading to view data on the quantity of applicants and employers currently registered on GeneratioNext Propane Pros, the number of presentations completed by the organization, and other important statistics.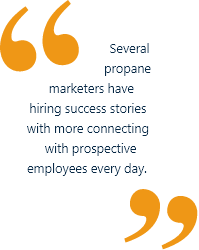 VIEW TESTIMONIALS

184
CDL & Trade School Presentations

2,786
Applicants Registered

1,755
Employer Locations Registered

311
NEW! Jobs Posted

241
∗
Please Note: Total Known Hires is a conservative estimation derived from companies who report back on their hiring data and through the job board. Employers are able to see applicants profiles, so they are able to contact via private channels, and those figures are not included in this figure. The data has been collected over the previous twelve months.
Data valid as of 06/22/2023